As we write this newsletter, our minds are filled with images of our children spontaneously dancing to music, singing with gusto and the audience cheering loudly! Our Annual Day function just got over and was a huge hit. We never imagined that our 4 to 7 year olds could tirelessly perform for almost two hours. The teachers and the nursing students from the hospital also joined the fun and danced for a couple of songs.
Interaction with Parents
We believe that our education work, to be truly effective, should not stop with the child but has to extend to the parents also. To foster a deeper involvement in the learning process and to encourage participation we requested parents to visit the school as observers and have one to one meetings with us. We set aside dedicated time for their visits during November/December. We staggered the timings of their visits. They visited their child's class as a silent observer to understand the learning process as it unfolded and then discussed their child's  progress with us privately.
This was an intense exercise as it involved continuous interaction with the parents but it was well worth the effort for both sides.
We had another parents' meeting in March. Most parents participated enthusiastically. The meeting started with the feedback from the parents. Most of them were very positive and some of them related interesting anecdotes.  After that we had discussions about the contribution of parents, uniforms, children's progress, TV  watching, admissions for the coming year etc. The children then put up a performance for their parents and also individually showed them their files and work in school.
Pongal Celebrations
Pongal is an important festival in the valley and it is a custom here at Thulir to celebrate Pongal in the campus with students and staff. This year also we had loads of fun during pongal, Children and teachers were completely involved in the activities right from the beginning to end. Cleaning the campus, planning decorations, applying cow-dung paste on the mud walls and floor etc.
Children unleashed their creativity on the classroom walls and each painting was unique in its own way. Pongal was cooked together and the women danced the traditional folk dances. Colourful rangolis from the children and staff adorned the walls and floor.

Project based learning
As part of our ongoing project based learning approach, children worked and collaborated on two projects
Plants
For this project, children were split in groups and each of the group were given separate patches to grow plants. They planted different varieties of seeds and observed multiple factors that affect or promote plant growth
What does a plant need to grow ?
The role of air, water, soil and sunlight in the life of a plant
Lack of these natural resources and its effect on the plant
The effect of chemical fertilisers etc.
Every week, they observed their patch, conducted measurements, tabulated and graphically depicted the growth of the plants. Later, they enacted a play stressing the importance of plants.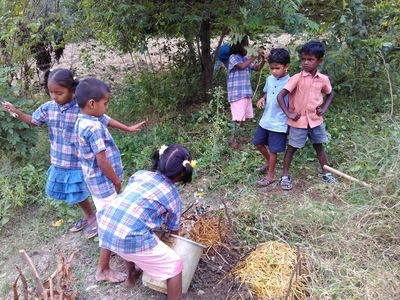 Water
Children learned about various types of water sources, water types, water cycle, various phases of water through observation and some experiments. e.g: boiling, freezing water. We also discussed our dependency on water.
We conducted a small awareness rally through the village stressing the importance of saving this precious resource. We wrote placards, created and shouted slogans and with the help of Sakthivel fixed the leaking community taps on our way. It was surprising to see the normally shy, quiet and diffident teachers and nurses chanting slogans loudly and enthusiastically through the village!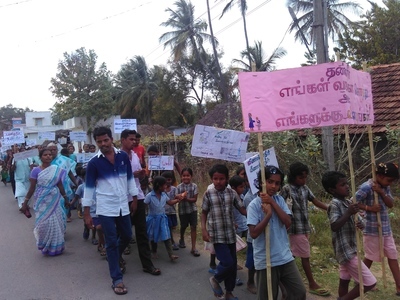 During the annual meeting of the Sittilingi Organic Farmers Association, our students performed a play on the importance of trees. The play was a reflection of village life. The 500 members of the audience cheered throughout the play and later congratulated the children on their performance. This was the first time our children had performed in front of a large audience (mostly strangers) but they pulled it off beautifully.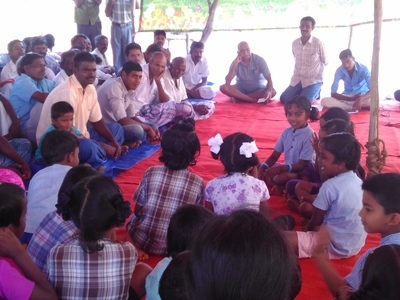 Village Trip
Most of the teachers and students had not visited each other' villages. We decided to go on some local trips. We took the children to Thanda, the Lambadi hamlets in the valley. We visited students' homes and also a small power loom plant. We observed how a loom works and how weaving is done.
Through out these projects children had lots of learning & fun – observing, collaborating, experimenting etc. The fact that learning can indeed be fun was palpable throughout these interactions.
Camping Out
Most of our 6 and 7 year olds had never stayed a night away from their parents They were very excited when a night out at school was planned. That whole night was filled with excitement and fun. We all collaborated and cooked our dinner using firewood and a star gazing session ensued after it.
Marudam Trip
15 children along with 4 teachers visited Marudam Farm school, Thiruvannamalai. Our children attended some of the sessions in the school. In the evening we visited the big temple and the Ramanashramam. We spent the second day in the Park developed by The Forest Way Trust.
Children played for hours in the slides and swings in the Park, it is also a great learning space with life-like paintings of various species of birds, snakes, trees, orchids and interesting facts about each of them. All of us fell in love with the park.
With the guidance of Thomas from Marudam school, Children baked cinnamon biscuits in the oven. They also learned new games that are popular at Marudam. The way these 6 and 7 year olds had their baths on their own and got ready by 6 am in the morning and the way they handled the crowded public  transport buses amazed us !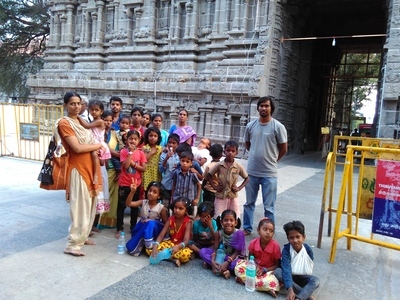 Scratch
With Sreyarth's help Children created multiple programs in scratch and tried their hands in simple animation scripts. They went on to create an animated story, "Hathi, the elephant" and presented it to the rest of the school.
Workshops
This was a community where people used to sing and dance together. Most of that is lost now. In an effort to bring back some of that spirit we invited Mr. Mohan from Polur for a week to conduct an intensive folk dance workshop. Teachers too participated and learnt dances enthusiastically.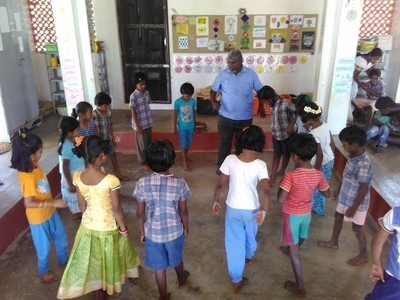 Four teachers are attending a two day yoga workshop every month. This is being conducted at THI by teachers and therapists from Yoga Vahini. This school of yoga is based on the Krishnamachari tradition of yoga.  Our teachers are learning to observe their bodies, minds and breath and how to guide children and others to do so and reclaim control over one's s own health and well being.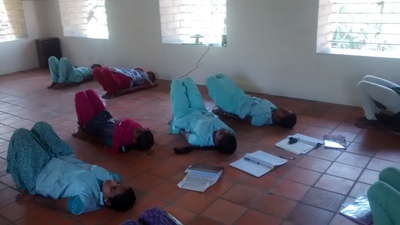 The Sittilingi Run
A dream for many years, finally came true this year on January 22 nd. The youth from Thulir and THI got together and organised this beautiful event. There was much comradrie, laughter, sportsmanship and team spirit as around a hundred men, women and children ran the 10 Km and 5 Km runs! The weather co- operated completely and we couldn' t have asked for a better day. Santhosh and friends from Runner's High arrived and participated to provide encouragement and support!
Sakthivel and the BT students group participated in the Auroville marathon in February.
New School Construction
The new school campus is taking shape faster than we had imagined. Walls of three classrooms have come up to 8 feet height. The walls of the fourth and fifth are at 3 feet. The ferro concrete roofing channels are being fabricated. Most of the work is being done by the Thulir Alumni.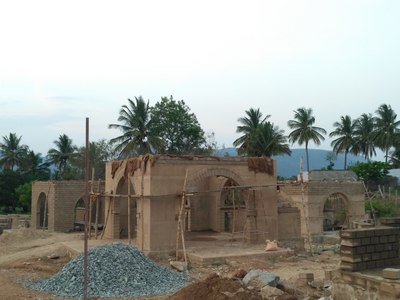 New Additions to the Thulir family
We welcome Ram, Archana and their 3 year old daughter, Sharada, to the Sittilingi community. They have left lucrative careers in Bangalore and shifted to Sittilingi. Their coming has definitely given an impetus to the work. We are happy that they have quickly adjusted to rural life and become a part of the Thulir team!
Visitors & Volunteers
In support of Thulir's efforts and to fund-raise for the new school campus, a group of 10 young architects from Bangalore & Pune cycled to Sittilingi from Bangalore. The distance was about 200 km and they cycled close to 100 km a day. Some of us from Thulir also cycled from Sittilingi, planning to meet & greet them on their way. We met the group near Theerthamalai and accompanied them to the campus.
Nandini, a student from NID Ahmedabad visited our school and taught some songs and guided the children in Art.
Two groups of children from Marudam Farm school visited Thulir on two separate occasions.
Valli and Ilakiya two architecture graduate students visited Thulir.
Jaishankar & Madan, students of architecture, from Adhiyaaman college of Engineering are interning at Thulir and helping us with the construction of the new school campus
Sunder, a volunteer from Delhi and part of our team for about an year,  completed his stint at Thulir and has gone back to Delhi for higher studies. We thank him for all his efforts and wish him the best in his pursuits.
This summer has been especially fierce and we came very close to a severe water crisis, thankfully we made it through. The school is now closed for the summer holidays and teacher training classes are in progress, it'll reopen on the first week of June.
We all are thrilled and excited about the new campus taking shape and at the same time gearing up for the new challenges that face us in the new academic year.
Thank you all for supporting us through all this.
**************